The Ultion Lock
Absolute home security
Ultion is still snap secure with the key in the inside of the lock Its something we all do, we lock the door and leave the key in the lock on the inside. Even with the most snap secure locks leaving the key in the lock can completely remove any snap protection you thought you had.
The Ultion lock has many features that secure your home against major attacks on your door.
Ultimate Protection against Lock Snapping
Normal, handed anti-snap locks feature a single sacrificial section and focus on strength to make snapping harder. Except the strength is never enough to withstand the force leveraged from a burglar's mole grips. On each end of an Ultion cylinder there are two sacrificial elements, each designed to snap with relative ease, but more importantly in exactly the right place. When snapped the central cam is directly and independently locked – not to an attackable internal plug.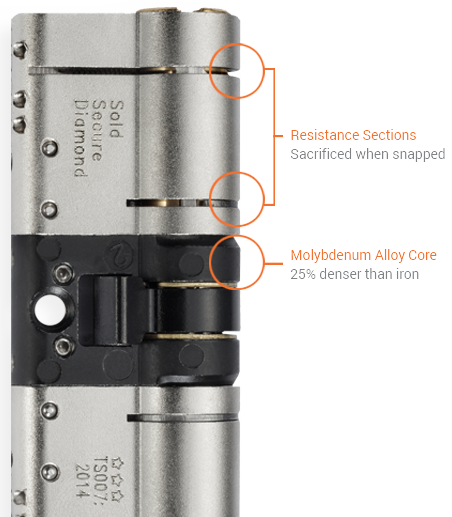 Some locks have 5 pins,
others have 6, Ultion has 11
Underneath the key sit 6 pins. Each of these pins have specific jobs, there are 2 steel anti drill pins, 3 brass mushroom anti-pick pins, and one anti-bump. But then, above the key Ultion is housing a further 5 pins – creating an astonishing 294,000 key combinations.

Ultimate protection with 'Lock Down Mode'
The moment that Ultion detects forced entry it activates an attack lock directly into the central cam, this is 'Lock Down Mode'. Even if the most determined intruder gets past Ultion's two sacrificial sections he won't get to the attack lock because it is protected deep inside a solid molybdenum core and secured with a dedicated retaining pin. When Ultion is in Lockdown Mode your home and family are safe.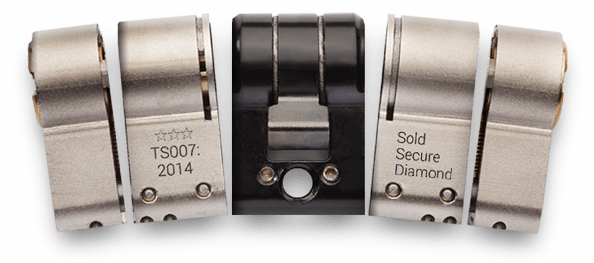 Personalise your Ultion Lock
2 colours cylinders now available


Ultion also offers a standard and thumb turn cylinder